The crypto market continues trending downwards, with major coins like Bitcoin and Ethereum seeing substantial value declines.
Several external factors are contributing to the downfall – with the SEC's recent lawsuit against Binance being the most pressing.
However, not all cryptocurrencies are dropping, however – presale projects Wall Street Memes, yPredict, Ecoterra, and Launchpad XYZ remain resilient and continue to attract investment from crypto-savvy individuals worldwide.
SEC Lawsuit Against Binance Sends Shockwaves Through the Market
The crypto market heatmap from CoinMarketCap makes for grim viewing, with the vast majority of coins and tokens in the red over the past day.
Bitcoin and Ethereum dropped by more than 5% in the previous 24 hours, while smaller market cap tokens suffered even worse – with Pepe coin sinking 16%.
Data from CoinGecko reveals that the total cryptocurrency market cap is down 3.4% during this period, evidencing the clear lack of positive momentum.
Trading volumes for most major cryptos have also fallen, with just over $10 billion worth of $ETH traded in the past day – a far cry from what it was just weeks ago.
Although the crypto market has struggled since the end of May, recent developments have helped speed up its decline.
The most prominent development is that the US Securities and Exchange Commission (SEC) filed a lawsuit against Binance on June 5, alleging that the exchange violated securities laws.
According to an article from Reuters, 13 charges were filed against Binance, with the SEC claiming that the exchange (and CEO Changpeng Zhao) artificially inflated trading volumes and knowingly diverted customer funds.
Binance has vehemently denied these allegations, stating that it will defend itself during the ongoing lawsuit. 
Moreover, Binance also highlighted that it cooperated with the SEC during its investigation and indicated it would be willing to settle to avoid litigation.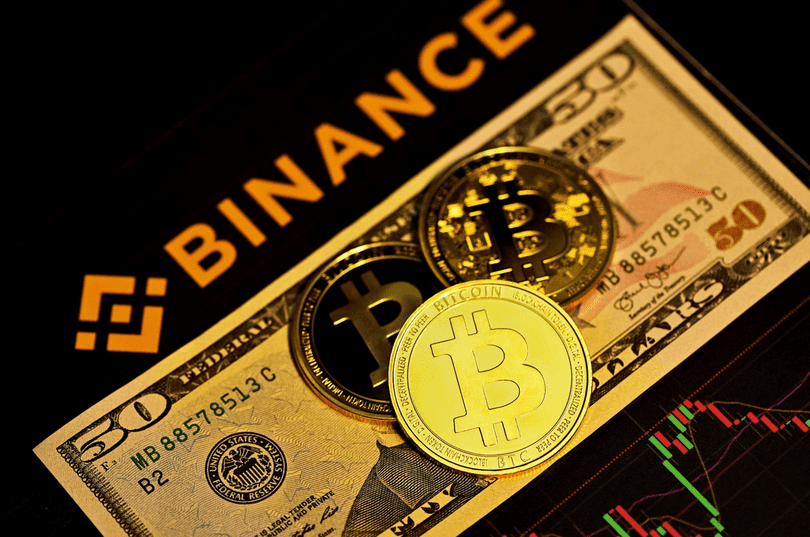 However, the SEC has opted to press ahead with the lawsuit – which has also named major tokens such as Polygon, Cosmos and Cardano as securities – sending shockwaves throughout the crypto market.
Data from Dune Analytics has shown that there were just over $500 million in net outflows from the Binance exchange on Monday, highlighting the fear that's now gripping the investment community.
Ultimately, the uncertainty generated by this legal action has created a perfect storm for a market downturn – meaning investors must be prepared to withstand high levels of volatility in the coming days.
Trending Meme Coin Wall Street Memes Attracts $4.5 Million Funding in Just 10 Days Since Launch
Despite the fear and uncertainty across the market, not all crypto projects have been affected by the SEC's crackdown.
Some promising projects are still attracting investors with their unique offerings – with Wall Street Memes ($WSM) right at the top of the pile.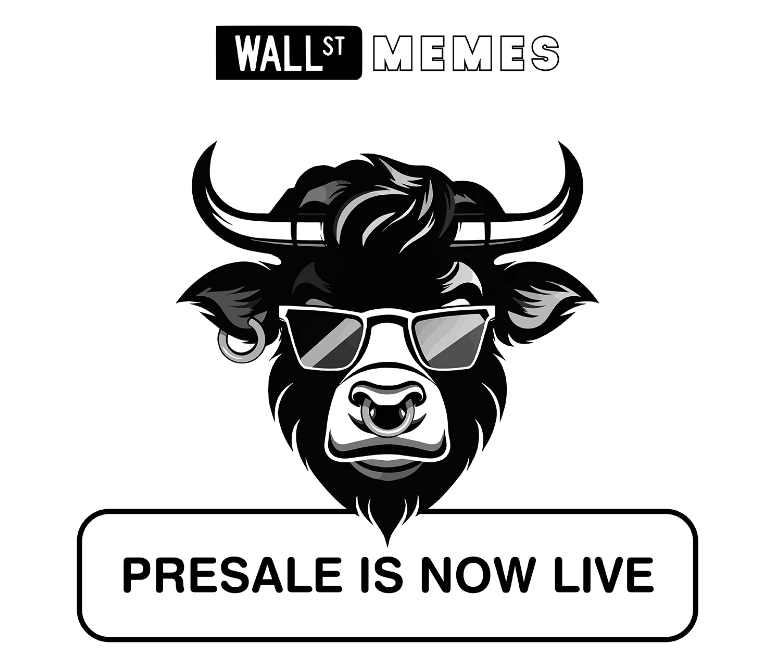 The newly launched meme coin continues to see huge hype and interest during its presale phase, which has now seen around $4.5 million in investment in just 10 days.
Although the meme coin frenzy of May has cooled a little, Wall Street Memes is a high-potential project with several notable advantages over its rivals.
Although anonymous, the developers have a proven track record in the space having previously launched the Wall Street Bulls NFT collection – which sold out in just 30 minutes when it launched on Ethereum.
They have also built a social media following of more than a million across several platforms, with their Twitter page a particular favorite in the space that has seen Elon Musk interact with it on multiple occasions. 
They have also adopted robust tokenomics for the $WSM token, which has a limited supply of only 2 billion tokens – 50% of which are available to purchase during the presale with no vesting period.
Notably, the team has not allocated any tokens for themselves, with 30% going to a rewards pool and 20% on exchange liquidity, making the presale fair and open to all and 100% in the hands of the community. There is also a $50k airdrop to take advantage of.
The presale is already in stage 9 of 30 with tokens priced at $0.0274 each – visit the Wall Street Memes Linktree for more info on the project.
Visit Wall Street Memes Presale
AI-Powered Crypto yPredict Causes a Stir & Raises Over $2.1 Million
Another top crypto presale project is yPredict ($YPRED), a new AI-powered platform that has generated tremendous buzz recently and just surpassed the $2 million milestone.
Moreover, yPredict has seen its official Telegram channel grow to over 30,000 people as eager investors look to learn more about the development team's ambitions.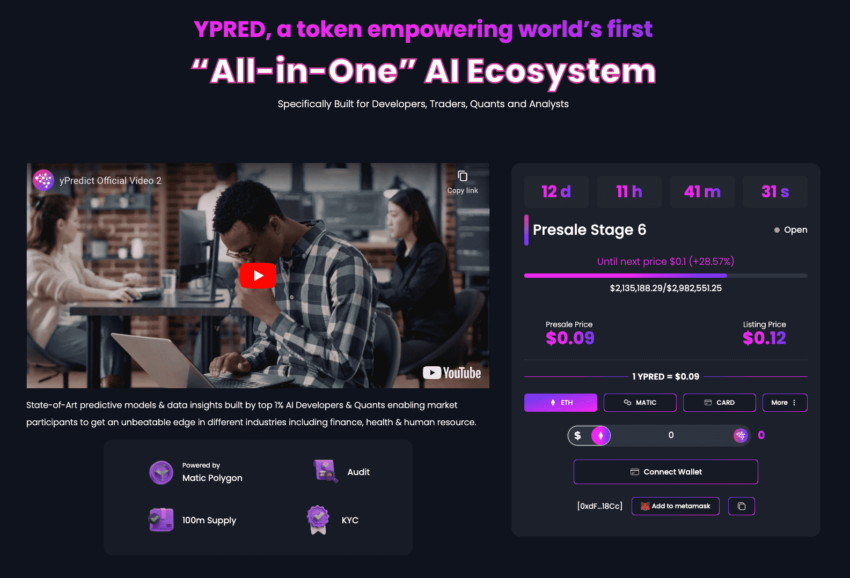 The main reason yPredict is receiving so much attention is its use of artificial intelligence (AI) and machine learning (ML) to provide objective insights to crypto traders.
Per the project's whitepaper, the yPredict platform will offer a range of tools, such as AI-powered trading signals and real-time market sentiment data, to give traders the "edge" in the market.
yPredict will also feature a price prediction marketplace, where AI experts can sell their predictive models, and traders can subscribe to them using $YPRED – yPredict's native token.
The combination of these features has prompted a massive uptick in investment interest over the past few weeks, bolstered by the low token price currently on offer during the presale.
Early investors can purchase $YPRED tokens for just $0.09 – 33% lower than the planned listing price of $0.12.
Ecoterra Champions Climate Action Through Blockchain-Based Innovation – Nears $5m Raised
Another exciting project that's withstanding the ongoing bearish momentum is Ecoterra ($ECOTERRA).
Like yPredict, Ecoterra is in the midst of a highly-successful presale phase, having already raised over $4.8 million.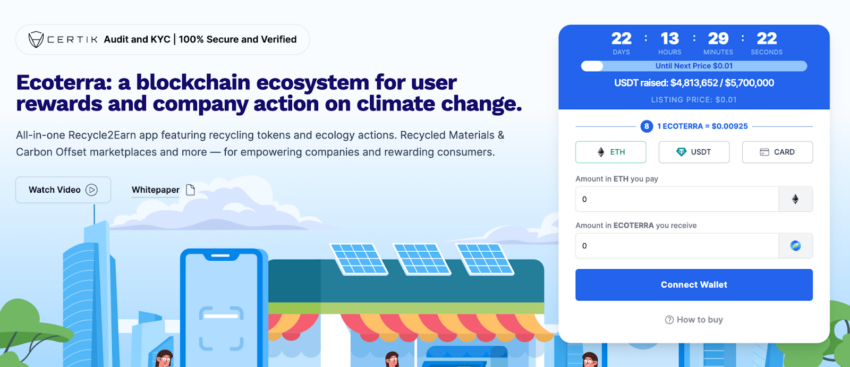 However, this presale is now in its second-last stage, meaning prospective investors only have a narrow window to buy $ECOTERRA at a discount before the token debuts on centralized exchanges (CEXs).
Currently, $ECOTERRA tokens are priced at $0.00925, significantly lower than the intended exchange listing price.
Investing at this low price could prove fruitful, given that Ecoterra aims to be more than just another crypto project.
Instead, Ecoterra seeks to become the go-to blockchain-based ecosystem for those looking to make their mark in the fight against climate change.
As outlined in the project's whitepaper, Ecoterra will release a Recycle2Earn app. This app rewards users with $ECOTERRA tokens whenever they recycle used materials, donate old clothing, or power their homes with renewable energy.
This app will combine seamlessly with Ecoterra's other features, which include a carbon offset marketplace, a recycled materials marketplace, and a trackable "Impact Profile" for all users.
All in all, given its strong vision, many early investors believe Ecoterra is poised to become a leading player in the realm of eco-friendly cryptos.
Launchpad XYZ Accelerates Web3 Innovation and Continues to Wow Investors
Lastly, Launchpad XYZ ($LPX) is another brand-new project that is still generating attention, even though the broader crypto market is floundering.
Launchpad XYZ has just breached the $900,000 mark in its ongoing presale – and looks likely to surpass $1 million in the coming days.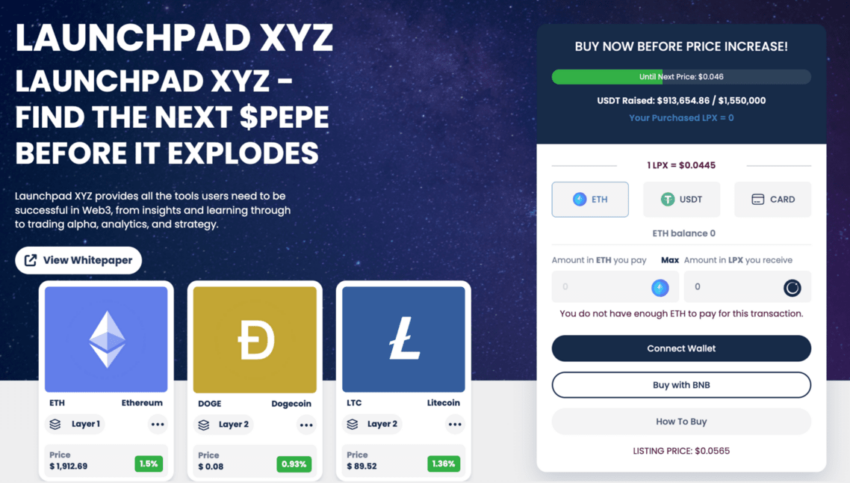 Much like yPredict and Ecoterra, Launchpad XYZ has been generating colossal traction among the retail investor community, with many speculating that it could be one of the biggest Web3-focused crypto launches of the year.
The reason for this buzz is Launchpad XYZ's goal to encourage Web3 innovation and investing. By creating an all-in-one "hub," Launchpad XYZ's team aims to provide traders with easy access to the top Web3 technologies, including cryptocurrencies, NFTs, and fractionalized assets.
As detailed in the project's whitepaper, Launchpad XYZ will offer a decentralized crypto wallet, an NFT marketplace, a metaverse experience library, a crypto presale marketplace, and even an array of play-to-earn (P2E) games.
Launchpad XYZ's native token, $LPX, will serve as the fuel of the platform. Users must stake $LPX to access the platform's premium features, which include NFT whitelists and trading fee discounts.
Early investors can buy $LPX tokens through the presale for $0.0445 – 26% lower than the CEX listing price.
The post Why Are Bitcoin & Ethereum Prices Crashing? These New Tokens Surge appeared first on BeInCrypto.